Nobody likes waiting. Talking about me, I really hate it and if I feel like the website is taking too much of my time then I immediately close it. Most of the people do that. Why wouldn't they? In this fast-paced digital world, everything is moving quickly. People do not have time and do not even bother to wait for a thing that is taking too much of their time. So, if you want your users to stay on your website then, first of all, you need to make your website faster and easily loadable in few seconds.
Google has already indicated that page speed is one of the signals used by its algorithm to rank pages. It can be a critical factor to its success. So, if you want to make both your user and Google happy, then you need to quickly work on it. There are tonnes of free website speed test tools available online which you should take advantage of. These tools not only pinpoint your websites bottlenecks but, also provides you with necessary recommendations which help improve your site's overall performances.
Here's a collection of top 13 free tools for testing your website's speed with their own unique features and reporting results.
Google PageSpeed Insights is the best website speed and performance test tool by Google. This tool fetches your website URL twice; once with a mobile user-agent and once, with a desktop-user-agent. So, you can view the page speed of your website on both mobile and desktop. It scores websites from 0-100 based on the performance of the websites. The higher the score, the better is the performance of the website.
A great thing about Page Speed Insights is that it not only provides the score of your website performance test but, it also provides you with the necessary suggestions to improve your website speed and performance. The suggestions usually include the fixing of render-blocking JavaScript and CSS in above-the-fold content, optimisation of images, leverage browser caching, minifying CSS and JavaScript, and so on. Implement the suggestions provided by Page Speed Insights to improve the website performance of your website.
Pingdom web site Speed Test tool analyses the load speed of your websites and lets you identify what page of your website is fast, slow, too big and teaches you the tricks to make your website faster, and so on. The speed test report provided by Pingdom is mainly divided into four sections: waterfall breakdown, performance grade and tips, overall page examination and analysis and performance history tracing.
The website speed test offers a detailed summary of performance grade, page size, performance insights, response codes, content size by content type, content size by domain, and the number of file requests. Hence, it is an awesome tool to get the detailed page analysis of your website.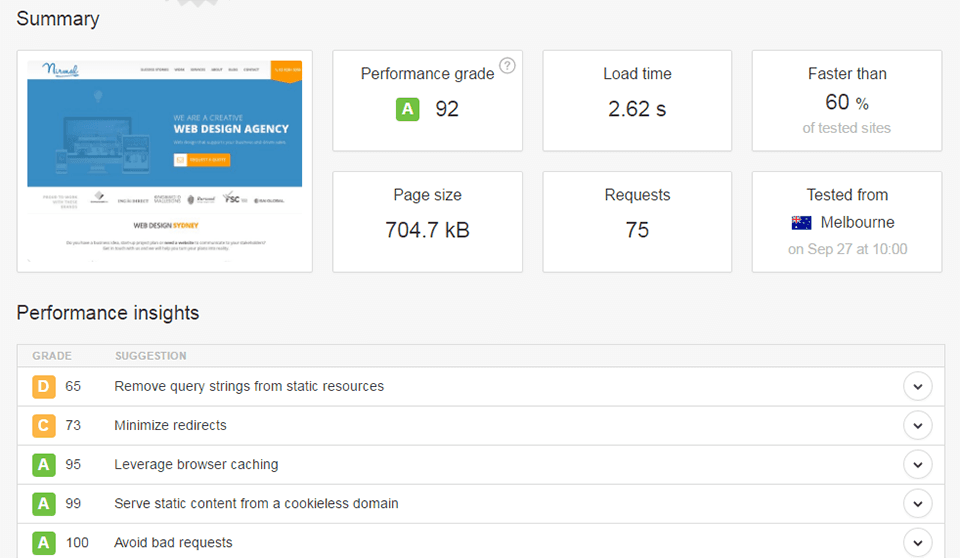 GTMetrix is one of my favourite website speed analysing tools which works on both Google PageSpeed Insights and YSlow metrics. It gives you a detailed insight on how well your website is performing and provides actionable recommendations on how to optimise your website in order to improve your website's overall speed and performance. Your website is assigned a grade from F to A depending on how well your site is performing.
Unlike other page speed testing tools, GTMetrix tells you a lot about your website performance. Its report provides the full picture of how your site loads and helps you to find where the bottlenecks are. The report provided by GTmetrix includes following key features:
PageSpeed and YSlow scores and Recommendations
Page load details including time, size, and number of requests
Various analysis options
Waterfall, video and report history
The additional features include monitor pages, setting up monitored alerts, and test from multiple regions (you can test from seven different locations), analyse with mobile and video capture. You can register to GTMetrix account at free cost.
It is a website speed test tool built by KeyCDN. This tool can include a waterfall breakdown and the website preview, so it can be used to generate the detail insights on how your website is performing. Through this test, you can see the number of HTTP request made, the full size of the page requested and the loading time of your website.
KeyCDN Website Speed test offers 14 locations in total to choose from around the globe and you have an option of making your tests private and public as per your wish. This tool is responsive in nature and works greatly on mobile devices. So, it is the best alternative to Google PageSpeed Insights.
Like other website page speed and performance testing tools, Web page Test tool analyses the overall performance of your website. It can run the test of the website from over 40 different locations and over 25 different browsers including mobile. Web Page Test performs testing of your website on FTTB, caching, compression, effective use of CDN, etc and scores your website from grade F to A depending on the overall performance of your website.
The analysis report provided by Web Page Speed includes six different sections: summary details, performance review, content breakdown, domains, and screenshots. You can also go through the advanced features provided by Web Page Test, which includes features such as video capture, JavaScript disabling, ignoring SSL certificates and spoofing user agent strings.

Which Loads Faster is a great tool to compare the performance of two different websites in your browser. As its name, the site compares the site loading time of two websites side by side. You can find two different modes here: Parallel mode and Serial Mode. Serial mode is the default mode in which, sites are loaded one side at a time in order to eliminate the possibility that the two sides will interfere with each other.
You can get to see the additional features like repeat, setting and grab my data in Which Loads Faster. It is a great tool to perform speed test of your website and your competitor's website.
OctaGate Site Timer allows you to monitor how long it really takes for your user to download one or more pages of your website. It visits your requested pages and downloads all content such as images, frames, script files, iframes, etc that is directly linked from that page. Site Timer stores statistics on how long it takes to download each item on your site and the quantity of data they contain, once the pages are downloaded.
OctatGate Site Timer not only shows how objects on the web page you're testing is being downloaded through a waterfall timeline but, it also gives you insight on how long it takes for your website to load completely.
This is yet another great tool to take your comparison further. You can enter 10 URLs and compare the site performance of each one simultaneously. Site Speed Checker displays details which include the total time taken by it to get a control packet from the host. The higher the value of packet loss and reaction time, the lower is the connection performances of the site and the lower the response time, the faster is the connection and is more reliable.
You can view the duration of given site through Site Speed Checker. And you too can use this value to view how long a site takes to load.
Uptrends is another great website speed and performance testing tool. You can simply enter a website URL and select only 1 location out of 35 available global locations provided by Uptrends and hit start to put the performance of any website to the test. The speedy website performance monitoring robots of Uptrends then goes through the web page and checks your web page and displays the Resolve, TCP Connect, and HTTPS Handshake, Send, Wait, and Receive times.
The test report of Uptrends is divided into two main sections: a waterfall breakdown and domain groups. You can find a unique perspective in domain groups as it categorises the resources into different sources such as 1st party, statistics, CDN, social, ads, first party overall, and the third party overall.
Page Scoring offers you Website Speed Test which checks everything from your domain resolving speed to your download times of your website. Page Scoring offer provides a simple performance report with a minimalist design which is easier to understand. The website speed test report of Page Scoring includes the following information:
Domain Lookup
Connection Time
Redirection Time
Page Size
Download Time
Average Speed
You can go through all your files and see how long it takes to load each file. Page Scoring is a good catch if you are looking for a quick and reliable website speed and performance testing tool.
Very PageSpeed Optimisation is a website speed and performance testing tool developed by Patrick Sexton. You can also find the documentation on how to further optimise your site with tutorials on critical render path, leverage browser caching, and defer loading JavaScript and more included in this tool.
The site speed testing report of Very PageSpeed Optimisation is divided into six different sections:
Resource Diagram
CSS Delivery
JavaScript Usage
Image Optimisation
Browser Caching
Services Used
Show Slow is an open source website performance testing tool that helps in the monitoring of various website performance metrics over time. Show Slow helps you to understand how various changes to your site affect its performances through a graph by capturing all the results of YSlow, Page Speed Insights, Web Page Test and Dyna Trace AJAX Edition rankings.
Show Slow also allows public metrics reporting and keeps the data till 90 days. You can follow the instructions given on Configuring ranking tools page to make your measurements publicly available on this page. If you want to keep your measurement private then, you can download and install Show Slow on your own server.

Velocity is another great tool with a unique approach test your website performance. It tests your websites and scores it out of 100 scores depending on the performance of your website. You can benefit of the features provided by this site by signing up to a free account. With this tool, you can also track your competitors.
The test report of Velocity is divided into three sections:
On-Page SEO: This section of the report provides you with insights about keywords, headings, and links (internal links, external links and no follow links).
Performance: Performance portion of the report includes information about how you have maintained and optimised your web page by knowing its composition such as how many images, scripts or style files it has in total.
Code Insights: Code Insights section of Velocity report provides you with useful information about your markup (classes/ids, tags, Google PageSpeed and more).
Is your website as fast it could be?
With the above-mentioned tools, you can easily test the loading speed of your website and know the bottlenecks and the areas that need immediate fixing. Page Load Speed is the most important yet overlooked ranking and conversion optimisation factor. Regular testing of your website leads to overcoming bottlenecks and overall improvement of your website.